Thinking of doing a hybrid event? We'll tell you how.
The continuing pandemic has changed the way events are done. In 2020, event organizers were unsure regarding the future of corporate events, conferences, activations, etc., as government restrictions put it all to a halt. Thankfully, technology allowed events to evolve and continue to fulfill brands' objectives. 
By now, most of us experienced some form of virtual event. But with easing restrictions this 2021, hybrid is becoming the new frontier. In fact, a survey done among event professionals show that about 73 percent of businesses already plan to hold hybrid events.
What is a Hybrid Event?
A hybrid event happens in a physical venue with in-person attendees, but is also available to an interactive audience online. But before you start organizing one, note that for an event to be genuinely hybrid, it must be hosted in the real world and replicated just as well in the virtual world. Streaming on Facebook Live or YouTube doesn't make an event hybrid. 
Hybrid involves creating an experience that is equally rewarding and fulfilling for your online participants as it is for live attendees. This means that both audiences can interact with speakers, engage with each other, and participate in all significant activities.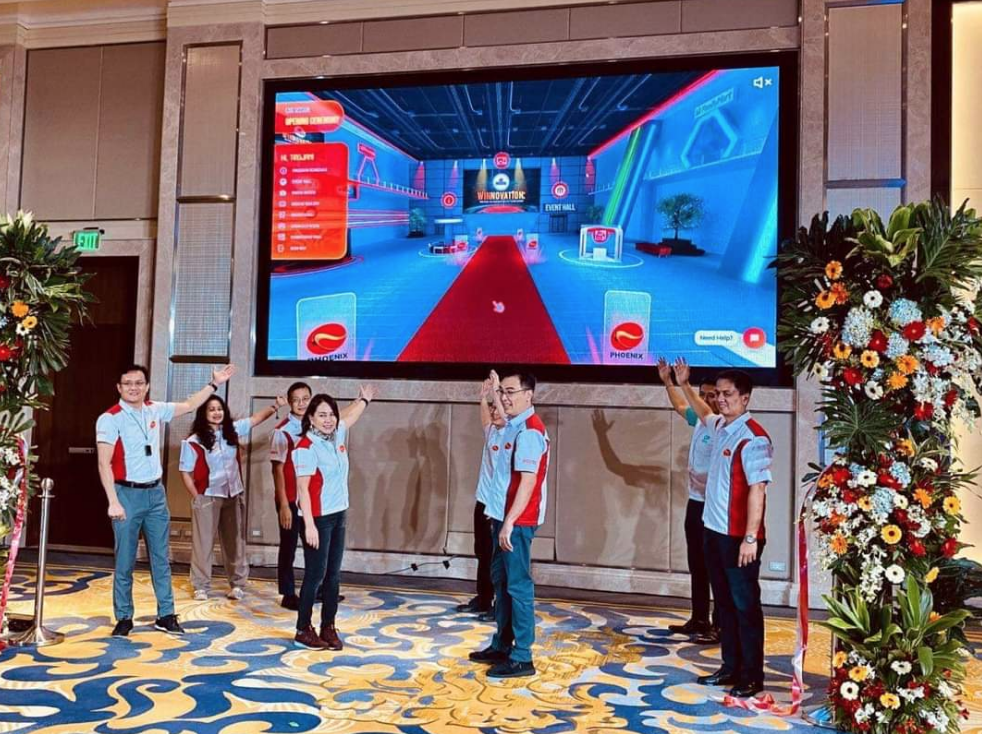 Phoenix 2021 WinNovation Event
Double Up
With both live and virtual versions of your event, that means you'll be doubling up on all your usual event efforts. These include:
Planning for Hybrid from Top to Bottom
It's crucial for both live and virtual audiences to get approximately the same value out of the event. Integrating both worlds should be the main consideration for your planning. This could be speaker interactions such as live Q&A, polling, networking, visiting booths, exploring the lobby, commitment ceremonies, and gamification. When Sanofi held their 2021 Sales Rally, the entire event was gamified. Audiences anywhere could compete in games, top the leaderboard, and earn points for their respective teams in group contests.
2x the staff 
Allocate a dedicated staff on-site managing the on ground event, plus another team simultaneously overseeing the virtual world. Since virtual and hybrid events require almost no room for error, it's imperative to get the right partners who can get the virtual tasks done with minimal supervision. For our Webplay Virtual Platform clients, we employ a hands on approach from brainstorming of concepts, building the whole experience, operations, to post mortem. Since we know our agency partners already have a lot on their plate, we unburden them, at least for the virtual aspect of the event.
Robust communication plans and advertising strategy 
Create an advanced communications plan directed to each virtual and live audience group. Engage with them even before the launch date via early registration incentives and email / sms messaging. Build up on your impressive speakers line up and consistently post enticing ad content. These statistics below by Markletic.com shows the top sources of registration during the promotional phase.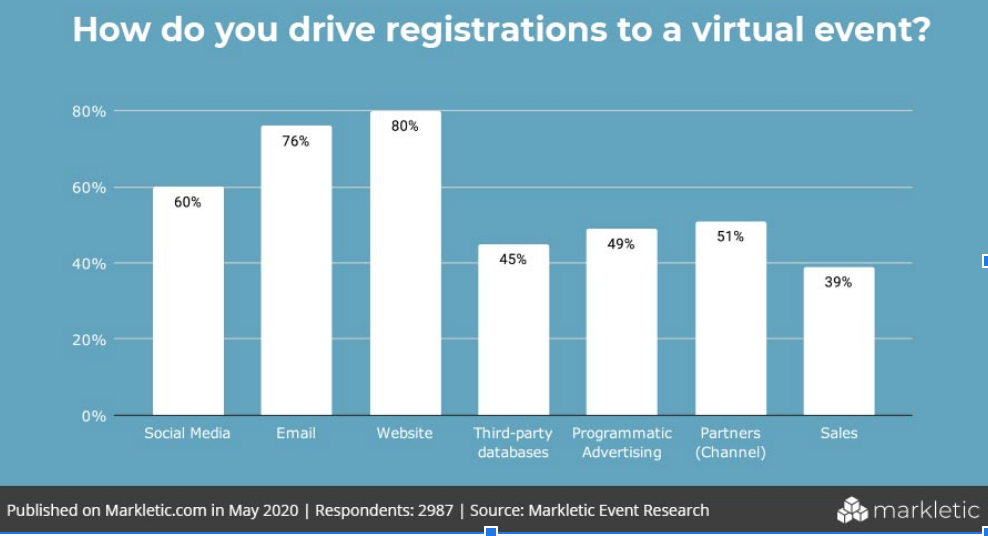 For those who have already registered, tease them by sending countdown messages, tutorials, what to expect, and other event highlights. Get support ready to promptly respond to queries.
The Benefits of Hybrid
Doubling your efforts will create a unified experience for live and virtual guests and result in double the return. 
Extended reach
There's capacity to reach a larger audience. Say you have an event in the Philippines targeting guests coming from other parts of Asia. Due to safety precautions, they can't afford to fly in. The virtual event platform enables you to replicate the on ground activities to ensure everybody can attend, fully participate, and gain the same benefits as that of physically attending the event. PH Digicon, one of the leading tech conventions in the Philippines, successfully did this through the Webplay Virtual Platform, allowing guests to network with other delegates from Singapore, Korea, Japan, and other countries.
Budget Fit
One of the silver linings of events in the new normal is that global topnotch speakers are  more accessible than ever before. Logistic costs are trimmed since the virtual event platform can give universal access to anybody from the ballroom to their couch. So even if the virtual platform is an added line item to your live setup, you can enjoy savings from speakers, logistics, production, venue, and food.
Better Sponsorship Opportunities
Sponsors can garner more booth visits with enhanced reach. They get to see both the face-to-face and virtual interactions on the platform, track metrics, and employ useful data for closing transactions. Virtual booths can also be fully customized to meet the specific needs of sponsors.
On Demand
Keep sessions concise, because remote guests may be multitasking alongside home and work related duties. Here comes the advantage of having a virtual realm in that everything can be accessible on demand even after the live event, for the attendees' convenience. 
Safety First
When planning your live event, it's crucial to make your guests feel safe. Whatever health and safety protocols are in place, make sure to stick with it. Even if it's added effort for the organizers and the guests, when attendees see safety measures fully implemented, they will feel secure to be there. 
To bring on the fun while keeping things zero touch, on ground foyer activities can feature contactless or touchless technologies such as virtual photobooths, augmented reality games, phone-based engagements, all of which are synergized and also playable inside an interactive virtual microsite platform like Webplay. 
A hybrid event's goal is to engage as many attendees as possible wherever they may be. It promotes person-to-person engagement that likens it to real-life connections. Going hybrid provides opportunities for more people to interact with both your content and brand.
Are you looking for a virtual event platform partner to launch your hybrid event? The first Philippine-based virtual event microsite platform, Webplay Virtual Events by Waveplay Interactive, offers fully custom virtual venues from interface, features, and backend specifications. In a span of eight months, Webplay has successfully created over 60 unique virtual venues for leading local and global brands. From product launches, conferences, year-end parties, virtual expos, sales rallies, to activations, Webplay has its pulse on virtual and hybrid events.