Kingdom fans can now enter the 'Escape from Dongnae' virtual escape room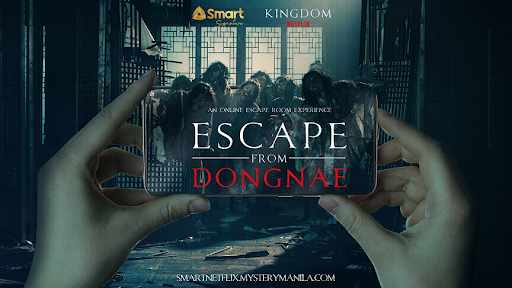 Netflix joined forces with Smart Communications, Inc. and Mystery Manila in providing an online escape room experience for Kingdom fans.
Recently, Netflix gave its audience a special treat with Kingdom: Ashin of the North. The much awaited prequel is a spin-off of the Kingdom series. It gives the viewers a glimpse of Ashin's life story and the resurrection plant's origin. Many of the questions asked by the audience regarding Ashin and how the zombie apocalypse started are answered here.
Be Part of the Zombie Apocalypse
Moreover, to make the wait for the next Kingdom installment even more exciting, Smart and Mystery Manila created a Kingdom-themed virtual escape room. Escape from Dongnae will draw subscribers into Kingdom's chaotic world of political conspiracies and bizarre plagues.

Mystery Manila has created a name for itself in the Philippines for its engaging escape rooms and challenging games. However, with the ongoing health crisis limiting physical interaction, they have resorted to online escape rooms that still give the audience the same excitement and thrill.
The project was made possible with the help of virtual platform provider / supplier Waveplay Interactive and creative agency, CTV. It is only one among numerous virtual events and activations in the Philippines that they have helped set up online while in-person activities are limited.
So, what can players expect in the Escape from Dongnae virtual escape room? The game begins with being stuck in the magistrate's library while surrounded by ferocious zombies. Then, players are tasked to solve several challenges through clues to reach safety. Throughout the course, they have to endure the horrible zombie scenes along the way.

How to Experience the Virtual Escape Room
The Escape from Dongnae online escape room experience can be enjoyed exclusively by Smart Signature Subscribers from July 31 to August 31, 2021 at https://smartnetflix.mysterymanila.com.